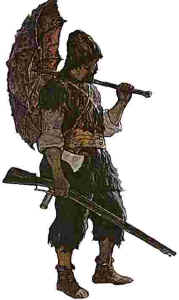 Another motif of the first narrative is the Daniel Defoe novel
Robinson Crusoe.
The book serves as a guide for the faithful servant of Lady Verinder, Gabriel Betteredge, who receives prophetic messages from Defoe's work. It is almost biblical-like text for Betteredge, who quotes it when giving advice.
"I am not superstitious; I have read a heap of books in my time; I am a scholar in my own way. Though turned seventy, I possess an active memory, and legs to correspond. You are not to take it, if you please, as the saying of an ignorant man, when I express my opinion that such a book as ROBINSON CRUSOE never was written, and never will be written again. I have tried that book for years—generally in combination with a pipe of tobacco—and I have found it my friend in need in all the necessities of this mortal life. When my spirits are bad—ROBINSON CRUSOE. When I want advice—ROBINSON CRUSOE. In past times when my wife plagued me; in present times when I have had a drop too much—ROBINSON CRUSOE. I have worn out six stout ROBINSON CRUSOES with hard work in my service. On my lady's last birthday she gave me a seventh. I took a drop too much on the strength of it; and ROBINSON CRUSOE put me right again. Price four shillings and sixpence, bound in blue, with a picture into the bargain."
Betteredge believes that no matter the difficulty, he can open his copy of Robinson Crusoe and he will find the answer he needs.
This belief is interesting in its juxtaposition to a narrative by Miss Clack, the very religious woman with a strong fondness for champagne, according to Betteredge. She relentlessly tries to pass out her tracks to those she fears may be on the path to destruction. Whereas Betteredge uses his text to give advice, Miss Clack uses her text to condemn.
Robinson Crusoe is a novel about the title character's attempts at survial on a dsert island. It was based on the true story of Alexander Selkirk, who was stranded in the Pacific.