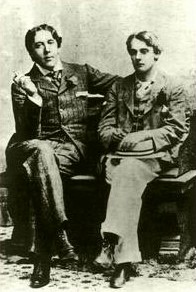 When Wilde met first met Lord Alfred Douglas (Bosie) in the summer of 1891, Wilde had already written "The Soul of Man Under Socialism" as well as the novel
The Picture of Dorian Gray
. Wilde was 36 and Bosie was 20 and a student at Wilde's alma mater Oxford University. The two only saw each other four times over the next year until May 1892, when Bosie was kicked out of Oxford. Though Wilde was married and had two sons, he had been estranged from his wife for quite some time. This relationship with Bosie was the beginning of 3 years of chaos for Wilde.
Wilde describes the relationship with Bosie in De Profundis. One person who expressed his disapproval of the relationship was Bosie's father, the Marquess of Queensbury. Wilde sued Queensbury for libel in 1895 but was forced to drop the case when details about his personal life began to be discussed before the court. Queensbury subsequently took Wilde to court for being a homosexual and was sentenced to two years in prison and hard labor.
During his last six months in prison, Wilde wrote
De Profundis
, which he originally titled
Epistola: in Carcere et Vinculis
, meaning Letter: in Prison and Chains. This letter was written to Bosie and describes the relationship from Wilde's point of view. An abridged version of the letter was published by Wilde's friend Robert Ross in 1905, though Bosie likely was not familiar with its entire content until 1912.
Sources used include: Oscar and Bosie: A Fatal Passion by Trevor Fisher
Oscar Wilde by Robert Keith Miller
Oscar Wilde by Donald H. Ericksen
Oscar Wilde by Richard Ellman